Commercial Bathroom Stall Partition Installation
We offer professional and fast installation of commercial bathroom stalls for businesses of all sizes.
We have a variety of materials and styles to choose from, and we can work with you to find the perfect solution for your needs.
We also offer floor-to-ceiling, floor-mounted, overhead braced, and ceiling-hung stall options.
Common Types of Commercial Bathroom Stalls and Partitions
Commercial Toilet Partitions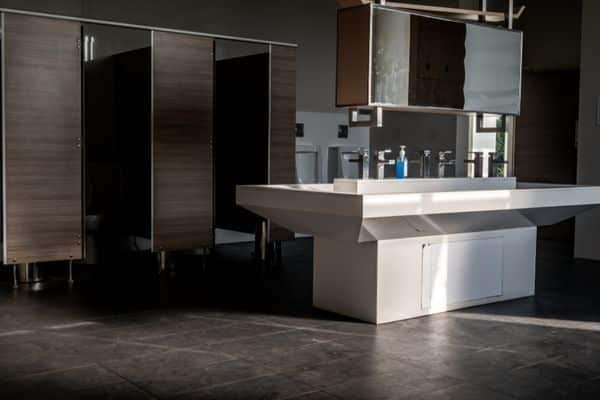 Commercial toilet partitions are made from durable materials like HDPE, solid plastic, or powder-coated metal, and they're designed to withstand heavy use. They typically come in two styles: ceiling-mounted or floor-mounted.
Ceiling-mounted partitions are more expensive, but they're also more durable and offer a cleaner look. Floor-mounted partitions are less expensive and easier to install, but they're not as durable.
Urinal Screens & Partitions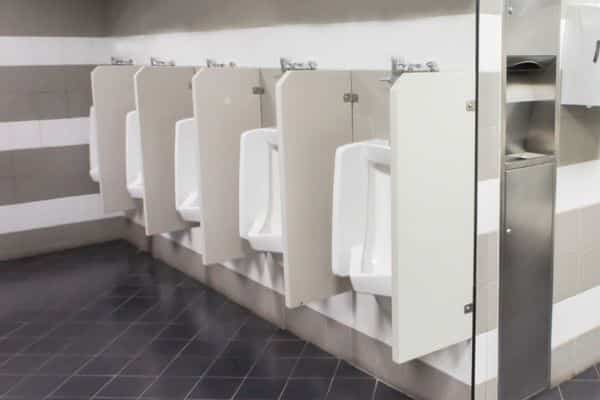 Urinal screens and partitions are necessary in businesses where urinals are present. They provide privacy for users and prevent splash back onto the floor or walls.
Urinal screens are typically made from stainless steel or powder-coated aluminum. Partitions can be made from the same materials, but they're also available in solid plastic or HDPE.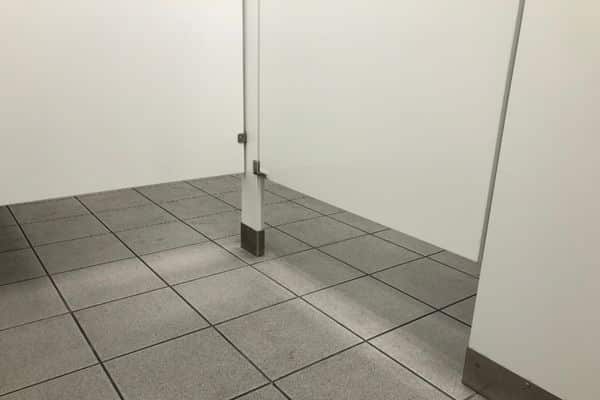 ADA compliant stalls must meet the guidelines set forth by the Americans with Disabilities Act. They typically have larger door openings, grab bars, and lower toilets.
However, they can be made from any material, including HDPE, solid plastic, powder-coated metal, or even wood.
Choice of Materials for Your Stalls & Partitions
Powder-Coated Steel is a popular choice for high-traffic bathrooms because it is durable and easy to clean.
Laminate is another durable option that is available in a variety of colors and patterns.
Solid Plastic is a more budget-friendly material that is also easy to maintain.
Phenolic Core is a higher-end option that is both stylish and durable.
Stainless Steel is an attractive choice for bathrooms with a modern aesthetic.
Corian is a luxurious material that offers a sleek, seamless look.
Common Bathroom Stall and Partition Styles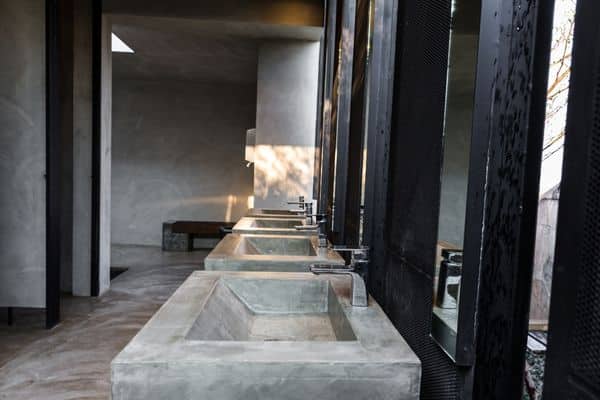 Floor to Ceiling
This is a popular choice for schools and other places where extra stability is required.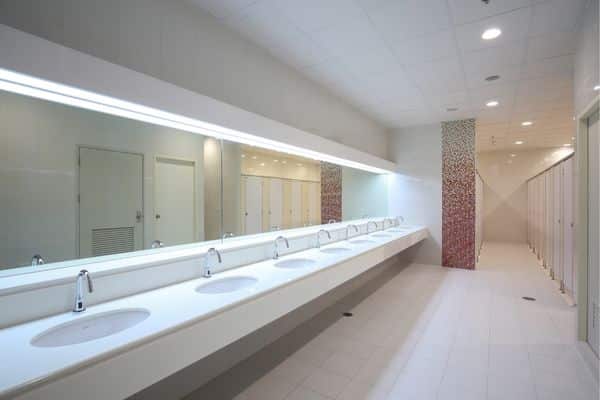 Floor Mounted
With its sleek and modern design, this is the best choice for high-end office space where durability isn't a key concern.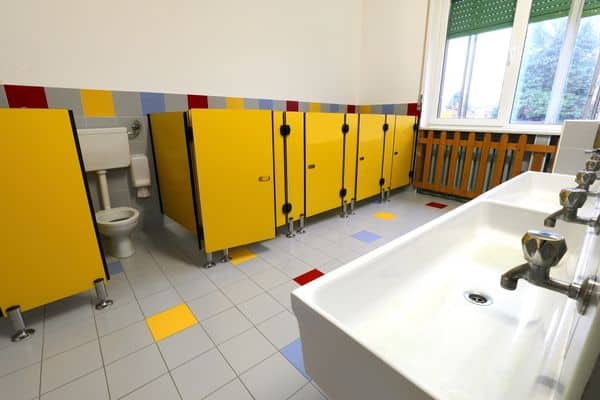 Overhead Braced
The most affordable type of restroom stalls. They work well for most applications and are a classic choice that people trust.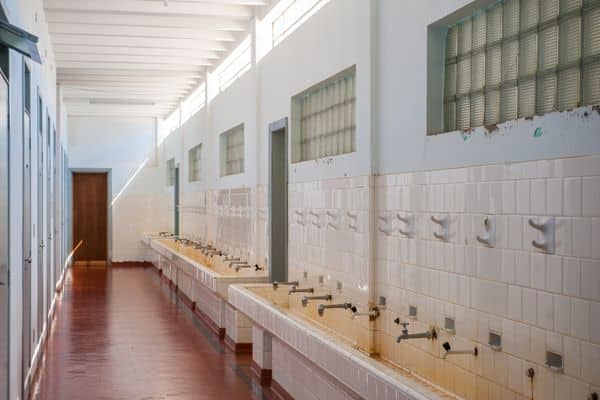 Ceiling Hung
By attaching to the ceiling, this product allows you to mop the floor entirely without having to go around any obstacles like bathroom stalls- perfect for hospitals and other large facilities.
At First Impressions, we understand that installing new bathroom partitions can be a big undertaking. That's why we've developed a three-phase process that is designed to make the process as smooth and stress-free as possible.
Planning and Measuring
We'll work with you to create a detailed plan for your new partitions, ensuring that they'll fit perfectly in your space.
Purchase and Delivery
We'll take care of ordering your new partitions and delivering them to your door.
Professional and Fast Installation
Our team of experts will install your partitions quickly and efficiently, ensuring that they're properly secured and looking great.
Who Can Benefit From Professional Installation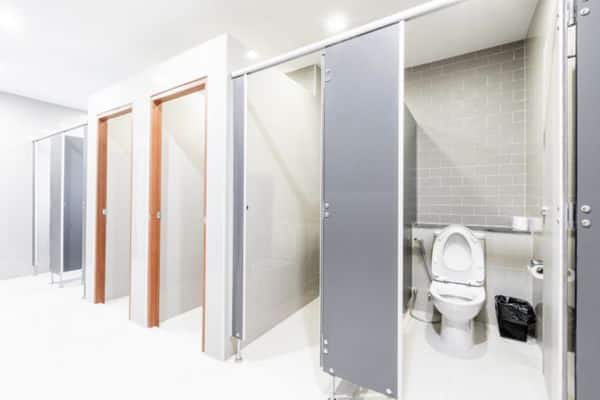 Commercial businesses of all types can benefit from our professional and fast commercial bathroom stall installation service.
Restaurants, office buildings, and hotels are just a few examples of businesses that could use our help to create a safe and functional bathroom space for their employees or guests.
Bathroom stalls and partitions may seem like a small detail, but they can actually have a big impact on the look and feel of your business's bathroom. When choosing stalls and partitions for your commercial bathroom, it's important to consider both function and aesthetics.
If you're in need of commercial bathroom installation, be sure to reach out to First Impressions. We offer professional and fast installation services that are sure to meet your needs. Plus, we're always happy to provide free estimates. So don't hesitate to call or fill out an estimate request form today!
"Jim and Lawrence were very professional and helpful. They completed my project faster than anticipated. Will call on First Impressions again in the future!"
Jim and Lawrence offer great communication. Great working with them.
Lawrence and his team never let us down. Highly recommended.